Need help applying online ticket discounts? We are here to help you. First it is important to know what discount you want to apply. If it is one of these three, follow the corresponding link to get the correct explanation.
Follow this guide if you want to use a discount to:
Large family
Single-parent family
Rural Tourism
.
1. Go to the Ticket Sales page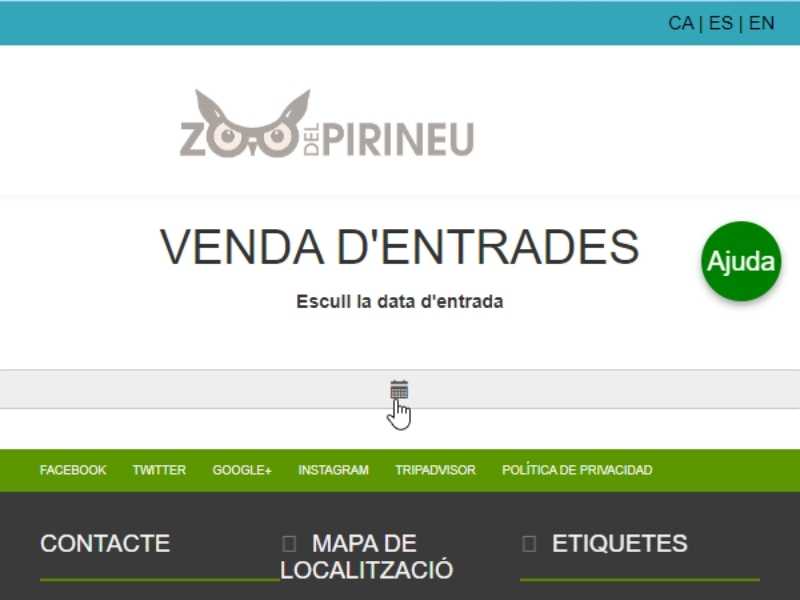 2. Choose the date of your visit.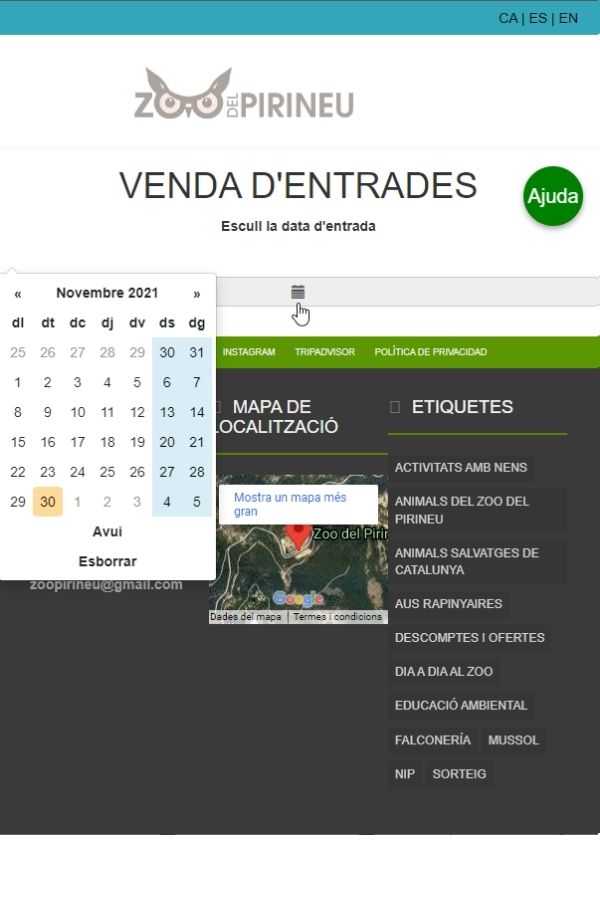 Here is the second point to consider.
– Does the discount apply to the whole group? If this is your case, follow this guide, but only pay attention to the text on the white background.
– If it applies to only a part of the group, follow the same explanation, but also consider the mentions that are on the gray background.
3. Put the total number of people who will come to visit us in the «Capacity control». It is an internal data that we need to comply with the security protocol for COVID-19. It is not the entrance to the park.
3 a. Put the number of visitors who will take advantage of the discount and first of all process the purchase for them.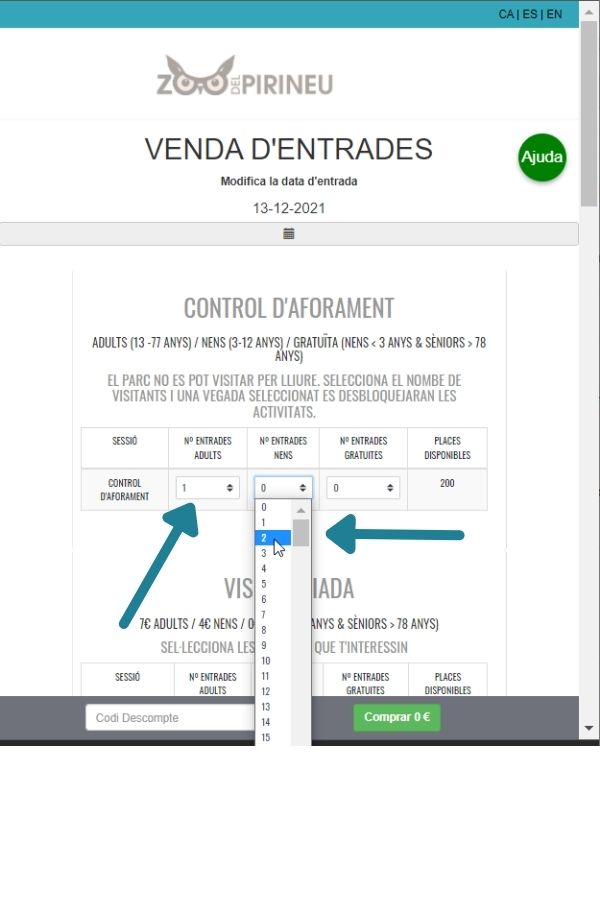 4. Once you have set the number of visitors, the screen expands and all the activities available for that day appear. Now first enter the Discount Code.
Large family: FamNom
Single-parent family: Fam1
Rural Tourism: TurSol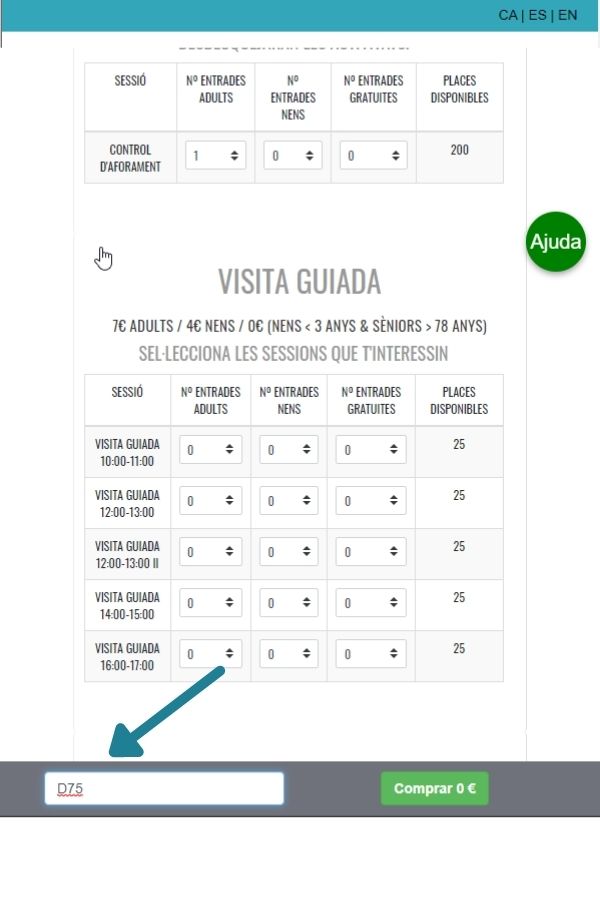 5. Choose the activities in which you want to participate. You will see that the discount is directly applied to the price. Once you have chosen all the activities, click on the green «Buy» button.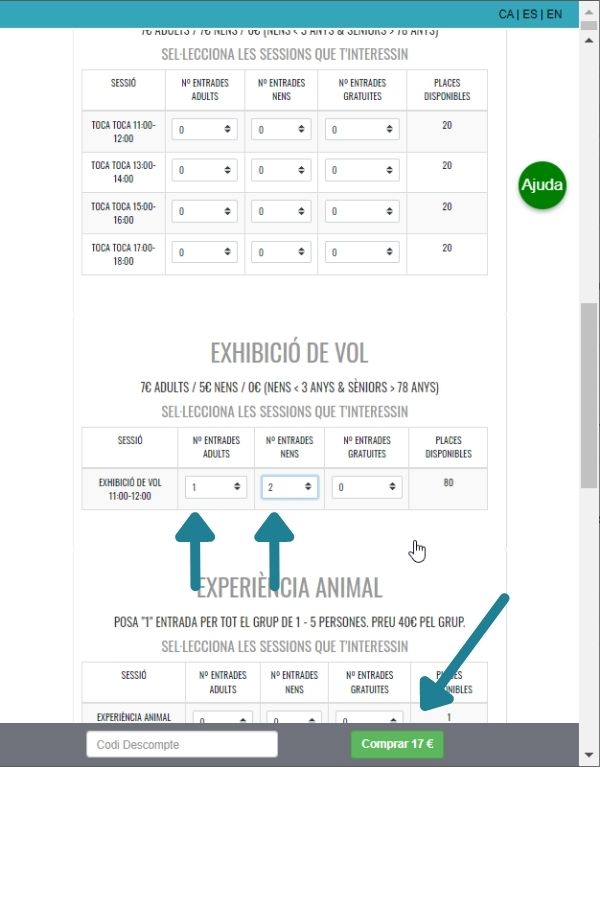 6. Go to your Shopping Cart. Verify that all data is correct. If they don't match, it's because you started several times and didn't empty the Cart before you continued shopping. If this is your case, we recommend that you empty the entire Cart and start buying again.
6 a. If you buy tickets for a group where some people receive a discount and the other does not, now you have put the tickets with the discount in the Cart.

Now you have to buy tickets for the people who have no discount. Click the blue «Continue Shopping» button. You will be taken to the page where you have to put the «Capacity control». This time put the number of people without a discount. Follow the guide without giving any discount code and you end up back in the shopping Cart.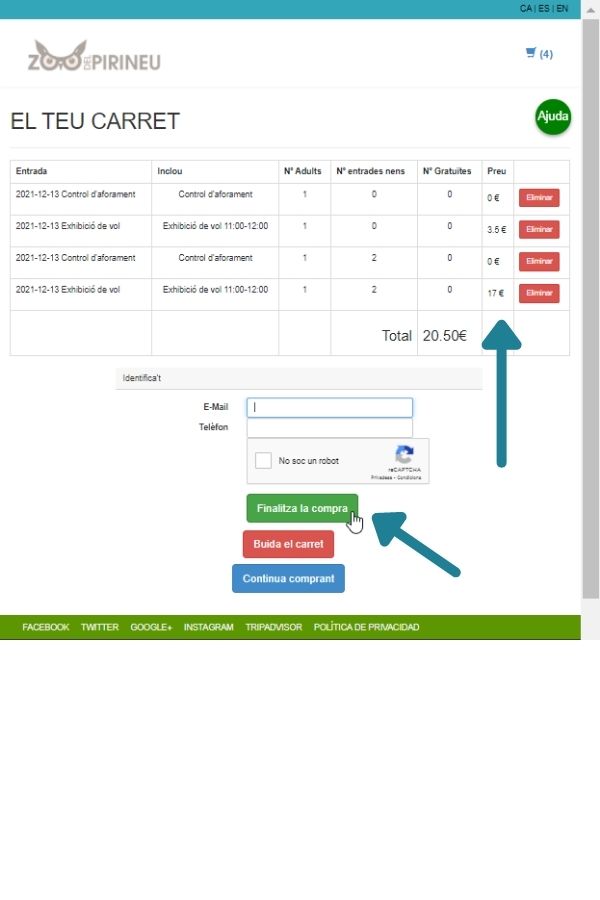 7. If everything is correct, click on «Finish Purchase». Process the payment. You will receive confirmation immediately at the email you provided.
If you are not sure how to do this or if you are having trouble purchasing tickets in general, please contact us directly.