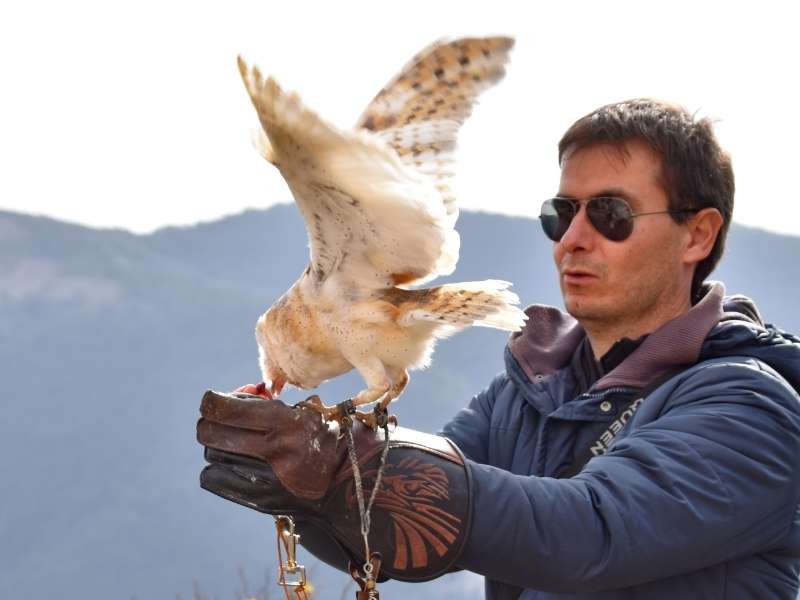 The Owl Experience is an ideal activity for all animal lovers.
1 and a half hours full of emotions and owls.
Each session is private, only you and your companions will participate.
You will carry the owls on your hand and you will be able to take photos with them.
You will feed them and make them fly.
Laughter, emotions and lifelong memories, teamwork, love for animals… the owl experience is an exceptional activity. Don't miss it.
It offers a unique opportunity to get to know the species of owls that live in Catalonia, learn about them, their customs, and have a great time.
Content
Who is the Owl Experience aimed at?
People who are fond of and fascinated by the world of birds of prey, and especially by owls.
Families who want to share quality time between parents and children.
Animalists and ecologists: Understanding how nature works (in this case the world of nocturnal birds of prey) is a key part of understanding how to protect animals and ecosystems. On the other hand, you will help us to exercise the irretrievable animals.
Minimum age
We recommend the children to be over the age of 6. You have to have some strength to carry the owls on your hand and the experience lasts 90 minutes. The youngest children usually get tired after half an hour.
For younger children we recommend the Animal Experience. It is shorter, cheaper and you can ask for direct contact with the owls as well. However, it is only a recommendation. The owl experience is 100% personalized and we adapt to any age of the participants.
Original gifts
The owl experience is also available as a gift voucher for a specific day or open date with a validity of up to 12 months.

Animals Participating in the Owl Experience
The birds you work with are animals that, due to altered behavior or a chronic illness (such as osteoarthritis), are unable to return to nature. Elder animals also take part. These specimens would have no chance of surviving in the wildlife.
Daily training and contact with people is a beneficial condition for their physical and mental health. You will help keep their life in captivity entertained and rich.
Species you will meet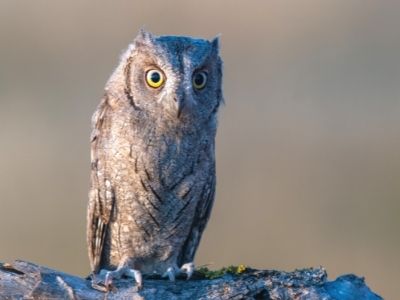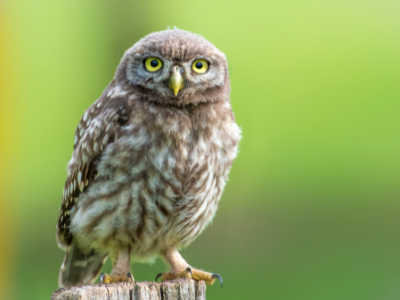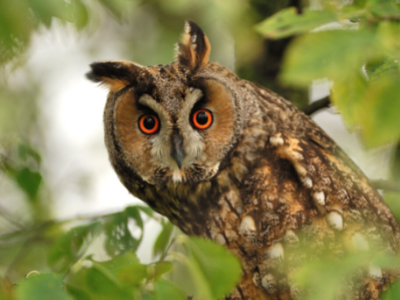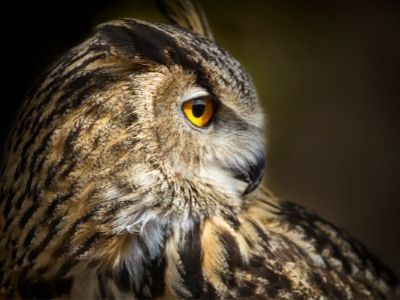 Owl Experience Planning
Development of the activity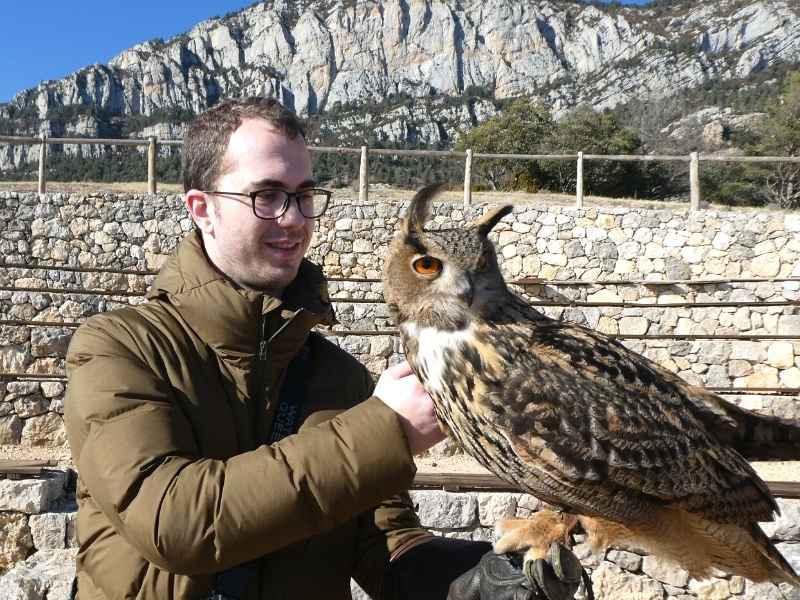 Welcoming and introduction
Distribution of professional material
You will learn to carry an owl on your hand
You will learn how to feed them properly
The first flights of the owls from a stable place to your hand
You will learn to fly the bird from your hand to the hand of your companion
Participants will fly an owl freely
Meeting an eagle owl
Flying a eagle owl (optional: you choose if you want to end your experience with a brrrrutal feeling)
Calendar
The owl experience is available year-round and every day of the week. But if some day the Falconry Course takes place, the tickets for this activity will be blocked. We recommend that you purchase your tickets online. They are cheaper and at the same time you will ensure that you do not come in vain. Tickets are often sold out.
Owl experience schedule
The Owl experience schedule vary throughout the year. Please take a look at the current schedule of activities at the Zoo of the Pyrenees. It is planned so that you can attend all the activities that you are interested in.
It lasts 1 hour and a half.
Owl experience price
The owl experience is priced per group. €65 is paid regardless of whether 1 person participates or if you are 5 in the activity. 5 is the maximum number of participants in a session.
For this experience, there is only 1 place available in the online sale, as this is an activity with a price per group. You will find all the information explained in the following link: Zoo of the Pyrenees Prices

Additional information about the Owl Experience
Security rules
Owls are not pets and you need to know how to treat them properly. In the owl experience, you will be accompanied by Stania, the park director. Before entering in contact with each animal, Stania will explain how to work with them and monitor your experience. You will be equipped with professional falconer tools.
If an animal scares you a bit and you decide not to interact with it, there is no problem. Please read the general rules of the Zoo of the Pyrenees before coming to visit us.
Notice
Keep in mind that birds of prey eat raw meat, so you'll need to touch it during the owl experience. If raw meat is unpleasant you we recommend not participating in this experience.
Cancellation and change of day
The owl experience can't be done indoors in case of bad weather. If you have purchased tickets and the weather forecast does not look good you can request a refund or request a change of day. Here you will find all the information: Refund and change of day

The owl experience is a 100% personalized activity. You will come into direct contact with nocturnal birds of prey of Catalonia. You will feed them and make them fly. In this way you will help us to enrich their day to day in captivity. Plus, you'll be learning a lot about them. Each session is done in a small private group.
Buy tickets today and make sure you get an unforgettable experience for life.