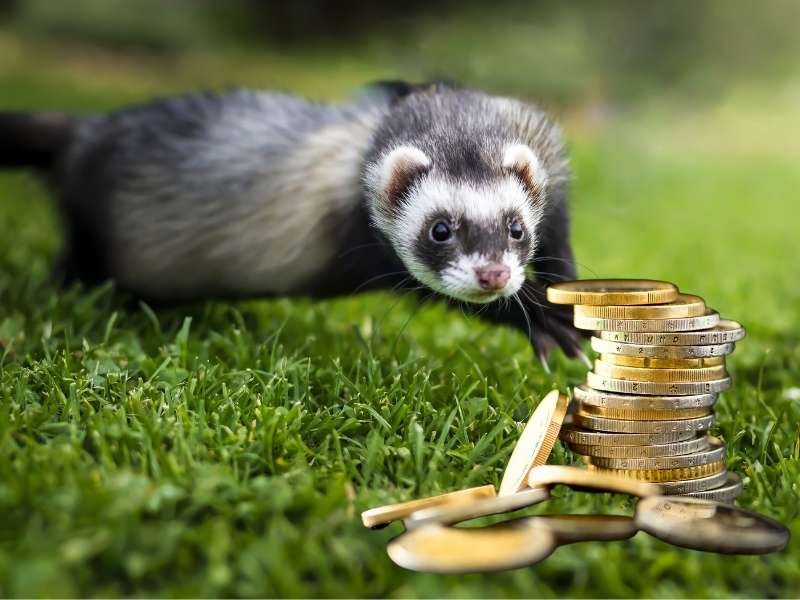 Pay attention because the prices for visiting the Zoo of the Pyrenees are a little different than you are used to.
The park cannot be visited for free (i.e. without the company of our guides) and therefore no general admission is paid.
So admission to the zoo is free?
No. The Zoo of the Pyrenees offers a variety of activities throughout the day. Each visitor chooses the activities in which they want to participate and only pays for those activities.
Our park receives a wide variety of visitors. In this way we ensure that each of you can organize your visit according to your interests.
Types of prices
There are two types of prices. The price of the online purchase (cheap rate) and the price of buying at the ticket office (more expensive rate). The reason for this difference is that we want to prevent you from being left without doing the activities you wanted if you come without a reservation and there are no places left.
And let's not lie: the price difference is so important that it will pay off to make that little effort and buy your tickets online.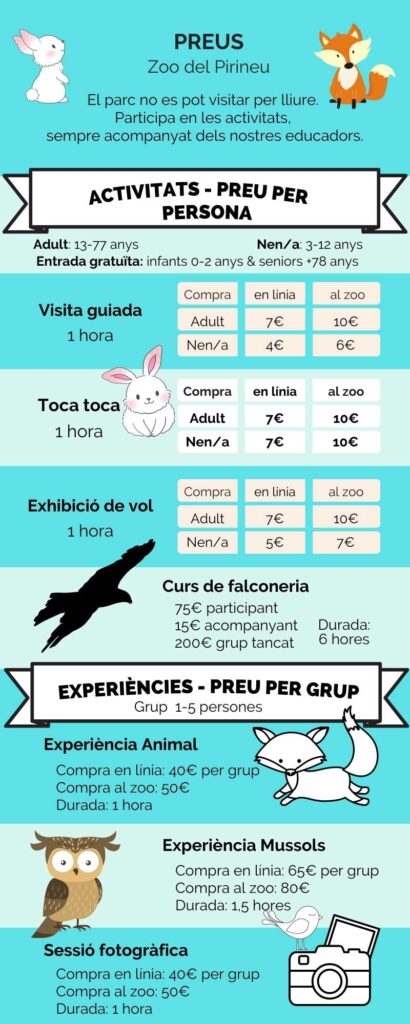 Prices according to age
There are 3 ranges:
Adults (13-77 years)
Children (3-12 years)
Free

Babies 0-2 years
Seniors over 78 years
Special offers
Beneficiaries of gift vouchers
If a person has a free ticket, it is important that they also buy the tickets (it will cost you €0, obviously). But in this way their places in the activities are reserved.
Difference between Price per person and Price per group
Price per person
Activities where visitors from different families can participate are priced per person. That is, it is the typical variant that we have known all our lives.
For example: Joan wants to visit the zoo with his partner and his sister's family, who have a 1-year-old child. They decide to take part in the Guided tour. Then Joan will buy 4 tickets for adults and 1 free ticket.
Group price
But careful! At the Zoo of the Pyrenees you can also enjoy exclusive experiences, 100% personalized. These experiences are priced per group. On sale they are limited to 1 ticket per experience, although a maximum of 5 people can participate.
Why do we make it so complicated?
This way a family, a couple or a person will have the complete experience reserved for them. No other visitors who are not part of your group can participate.
How does it work in practice? Joan from the previous example decides that everyone will also participate in the Animal Experience. Thenhe adds 1 ticket for Animal Experience to the purchase (there is no more availability). With this entry everyone will participate: the 4 adults and 1 child.
Capacity control
The first thing that will shock you when you buy your tickets online is the «Capacity Control» tab. Simply put the total number of people who will come to visit us (number of adults, children and/or free tickets). It has no effect on the price you pay, it is just some data that we need to comply with the regulations of COVID-19. Once you have set the number of visitors, the activities are deployed.
Discounts
We also have a variety of discounts. You will find all the information here: offers and discounts
Please note that at the Zoo of the Pyrenees we care for and rescue animals in need. When buying tickets, think about them. We do not receive any kind of help from the administration. It will be your tickets that will allow us to help the next time we receive a call and go out to rescue an injured roe deer or a parentless fox puppy.
Payment method
We accept cash payments, with debit and credit card (Visa and Mastercard) and also mobile payment. In specific cases you can also pay by bank transfer.
Refund and change of day policy
Please see our refund and day exchange policy. We have adapted to the unsafe times of the pandemic and give you full flexibility to request a refund or a change of day for your visit.

The Zoo of the Pyrenees is affordable.
In addition, the prices structure allows you
to pay only for the activities that you are really interested in.
The flexibility of the refund and day exchange policy
gives you security when buying tickets.